The 4G lone worker alarm for ID batch users
TWIG SOSCard is an ideal lone worker alarm for office, healthcare and retail workers, and could also be the best lone worker alarm type for education staff, security personnel and service technicians who may wear ID batches to identify themselves.

The new TWIG SOSCard is a 4G personal alarm device enabling also voice calls over LTE and Wi-Fi. The new 4G TWIG SOSCard includes a full range of lone worker protection functionalities, further aiding lone worker safety through its discreet design as an identity card holder.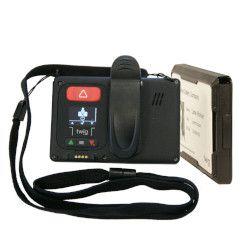 TWIG SOSCard can be optimized for your specific needs. Available options are with or without GNSS, with or without mandown and with or without SRD3. The SRD3 option is needed for compatibility with TWIG short range devices (SRD), for localisation using SRD, BLE and Wi-Fi beacons and for VoIP calls and data transfer over Wi-Fi.
The TWIG SOSCard sales package also includes belt clip, mains charger with optional adapter (EU and UK) and carrying strap with rip alarm mechanism.