Building on the success of the 2012 released TWIG Protector EasyS, we today released the new TWIG Easy personal alarm device, designed for lone workers needing a simple, compact and durable personal alarm device to protect them in various lone working situations.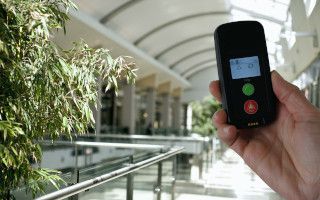 Simple, compact and durable personal alarm device
The new robust design wraps new features like 4G VoLTE calls and data communication, robust SIM card tray for nano SIM, firmware update over-the-air and optional belt clip, in addition to extensive indoor and outdoor location possibilities and all essential lone worker protection functionalities. TWIG Easy is compatible with TWIG Point cloud services and backwards compatible with previous TWIG devices.

Discover the new TWIG Easy!
2G/3G/4G voice calls and data communication

Automatic ManDown detection on fall, tilt or impact

Amber alert

SOS key

2-way hands-free voice calls

Powerful vibrator and loudspeaker

Dust and waterproof according to IP67

Remote configuration

Outdoor multi-constellation GNSS (GPS, Glonass and Galileo)

SRD3 compatibility option for TWIG short range devices (beacons, doors sensors and remote buttons, not compatible with TWIG Tag!), Wi-Fi and BLE locations.

Hybrid location for public space location (cellular + Wi-Fi) and for on-site location (TWIG SRD + Wi-Fi + BLE)

Compatible with TWIG Point Services: TWIG Point Remote Configurator, TWIG Point AGNSS, TWIG Point Netloc, TWIG Point Monitor and TWIG Point Site

Communicates with all systems using TWIG MPTP (Mobile Phone Telematics Protocol) both SMS and GPRS.
Available device options
Full range of compatible TWIG accessories
Charging station (AFC)

Programming station (AFP)

Smart charging station (AFS)

Multi-device charging station (AFME, AFMU, AFMA)

Carrying case (AFO)

Belt clip (AFB)

Charging adapter (AFA)

Mains charger with optional charger adapter (EU/UK/AU) (ACM-E, ACM-U, ACM-A)

Car charger (ACC)