TWIG Bracer Safety Phone
The two-in-one TWIG Bracer safety phone is now ready for shipping. TWIG Bracer is a rugged Android smart phone with lone worker alarm functions.
TWIG Bracer 3G/GSM/GNSS safety phone is designed for industrial and outdoor lone workers requiring a rugged smart phone with panic buttons and automatic alarm functions. A safety phone with alarm button, doubling as mobile phone, is often suited for moderate risk scenarios.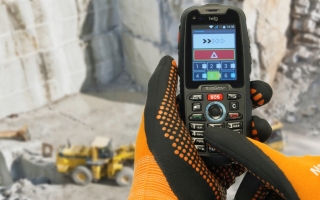 Two in one
Android smart phone with lone worker alarm functions
Location over MPTP
GPS, AGPS, Cellular and Wi-Fi location
Remote device management
TWIG Point Remote Configurator
Other Benefits:
Panic buttons
Automatic ManDown+ alarm triggered from device orientation and non-movement
Securing risky situations: Amber alert with timer
Plug-in compatible: Alarm functions and protocols familiar from TWIG personal alarms
Dedicated safety phone for outdoor and industrial lone workers: phone, PIM, e-mail, web, 2G/3G, Dual SIM, USB-port, NFC, GPS, Bluetooth, Wi-Fi, touch + keypad, LED torch, water and dustproof IP68, powerful battery and loudspeaker
Read more on TWIG Bracer product site