A variety of modular components compatible with most of the TWIG safety alarms. TWIG devices integrate with the TWIG Point services as well as with customer monitoring software.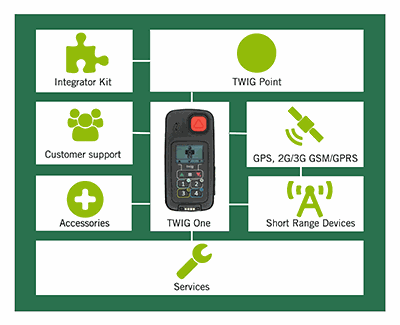 The TWIG short range devices (SRD) include TWIG Beacon, TWIG Tag, TWIG Door Sensor and TWIG Remote Button. A TWIG personal safety alarm configured with SRD transceiver can receive alarms from several TWIG Buttons, determine its position from nearby TWIG Beacons also when GPS signal is not available, and register attendance by swiping TWIG Tags.
The turn-key TWIG AGNSS (Assisted GNSS) feed enables faster and more reliable positioning compared to normal GNSS. GNSS system typically offers no position availability indoors, and degraded position availability when moving from indoors to outdoors ("first fix"). AGNSS may speed up first fix and improve position availability. To activate TWIG AGNSS, install a data enabled SIM and switch on AGNSS in device settings.
TWIG SP -model is a turn-key platform for selling alarm monitoring and GNSS tracking solutions. You control and invoice your customers, we provide the software. The TWIG Point SP services facilitate remote device management, monitoring alerts from TWIG devices and tracking their GNSS location on street maps and aerial views.
With help of the TWIG Integrator Kit TWIG devices can be integrated to a third party system. The TWIG Integrator Kit includes:

TWIG Mobile Phone Telematics Protocol (MPTP)
TWIG GPRS Protocol with reference PHP and .NET code
TWIG Point AGNSS feed
Access to TWIG Support for technical advice
TWIG Compatible ARC software
There is internationally a large and growing number of safety service providers and ARC system software providers that have pre-integrated TWIG alarm devices in their systems and can thus deliver a turn-key TWIG compatible ARC and tracking solution. Find some of them on our website Compatible systems or contact TWIG sales for other TWIG compatible ARC systems.