TWIG Advantages comprise durable and long-lasting devices combined with professional technical support and caring customer service. TWIG personal safety devices are cost-effective in the long run not only because of their durability and compatibility but also because of their scalability and modularity.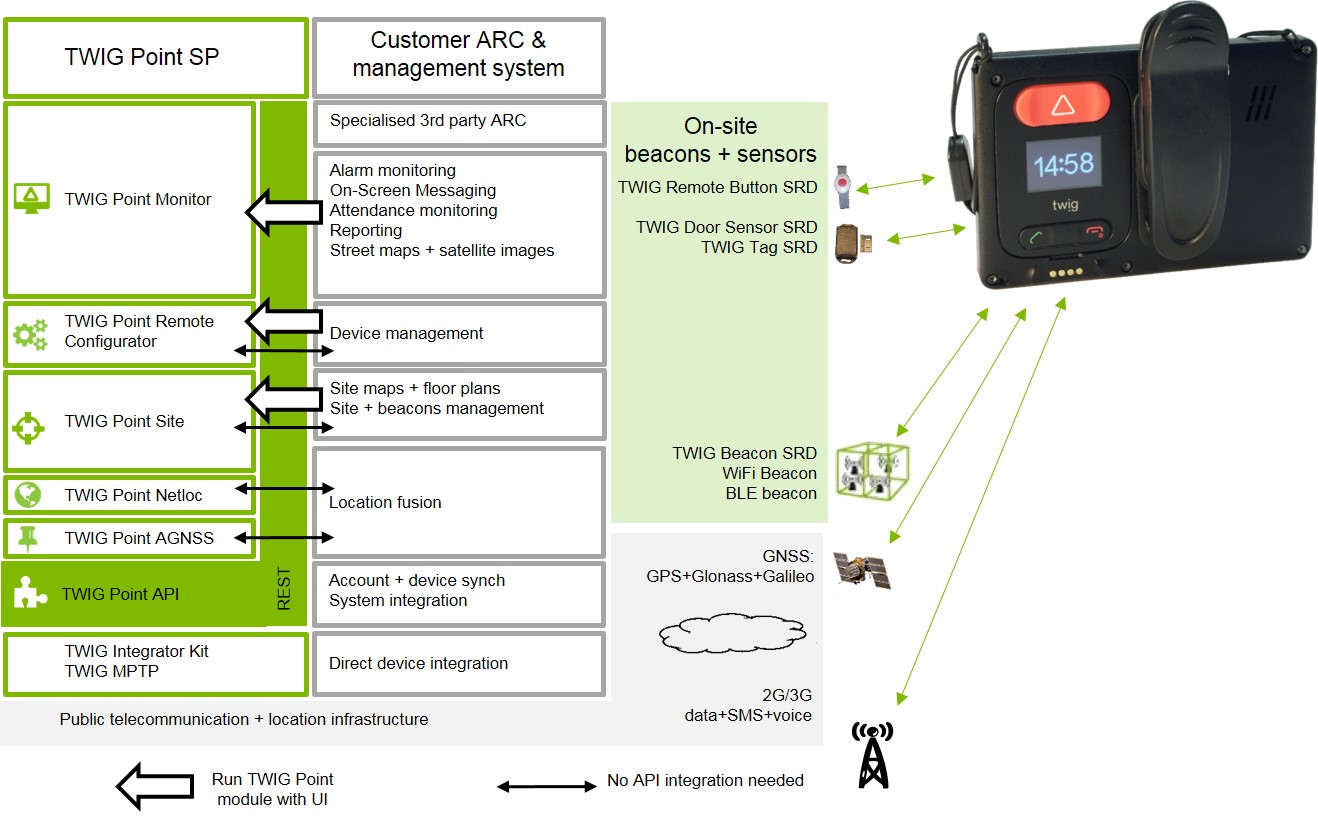 Compatibility
TWIG personal alarm devices are compatible in many ways. TWIG lone worker alarm devices are easy to deploy with TWIG or third party compatible systems or alternatively they can be integrated to a client monitoring software.
TWIG compatibility includes a full range of accessories, Short Range Devices (SRD) and an alarms monitoring application TWIG Point SP forming together a wide product offering and enabling building a solution to end-customer needs.
TWIG over-the-air protocols are generally backwards compatible over evolving device platforms from device type to device type. It means also novel TWIG personal alarm devices are usually drop-in compatible with alarm receiving centre (ARC) systems once integrated with a previous TWIG product.
Alternative TWIG personal alarm devices share a common ARC protocol, so you only need to integrate once and deploy different devices many times over (Naturally only those device functions implemented in the integration will be supported by your ARC).
TWIG device configuration scales through optional functions and widely configurable settings, according to project or customer-specific needs.
Open interface
All TWIG personal alarm devices can be integrated into customer or third party monitoring and tracking software. The open interface facilitates integration of new functions and improvements and enables adjustments according to customer needs.
The modular concept means cost savings and options for customer. For a specific purpose selected functions ensure the efficient functionality and focus on the necessary. TWIG Short Range Devices (SRD) are modular components creating complementary location system for indoor premises, enabling discreet alarms and registering attendance in changing indoor locations. TWIG personal alarm as mobile base station of its SRD transmits alarm to the alarm receiving centre (ARC) over mobile network. TWIG personal alarm devices integrate with the TWIG Point SP as well as with customer monitoring software.
Some countries have announced the shut down of their 2G or 3G network. This has a notable impact on the electronic security industry where many 2G GSM radios are in use for alarm signal communication to Central Station dispatch centers. The personal safety alarms must be replaced by newer generation 4G personal safety alarms in countries where 2G GSM or 3G radios will not anymore be available. TWIG is one of the few suppliers 4G personal alarm devices.

ATEX compliance

The ATEX Directive (94/9/EC) forces manufacturers to gain certification of electrical and/or mechanical products that can be used in a potentially explosive atmosphere. TWIG Ex (ATEX) products are type approved and manufactured pursuant to an ATEX certified quality management system. The notified body is Finnish Technical Research Institute VTT Expert Services.

The TWIG Indoor lone worker alarms system is designed to locate distressed or injured persons inside areas where GPS is not reliable and other methods do not provide needed accuracy. TWIG personal safety alarm devices report to alarm receiving centre (ARC) TWIG Beacon location information along with last known GPS position, creating a complementary location system for indoor premises capable of global roaming outdoors.