Charging station, SOSCard
The docking station compatible with TWIG SOSCard Charging station, SOSCard
AWO
---
A smart option for device charging enabling to dock the TWIG SOSCard device on upright position and pose it in a user friendly way.

Easy to view device display and recharging status. 

Mount and remove using one hand only.

Compatible with TWIG SOSCard only. 

Please note: The charging station cannot be used for programming device settings.

Optional remote docking indication, enabling the central station to monitor device status and usage.
Compatible with all TWIG SOSCard Wearables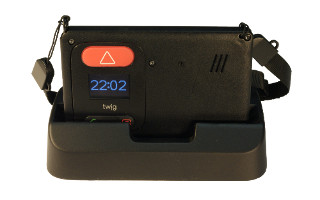 Charging TWIG SOSCard
TWIG Product Offer - More Than a Device